In this section...
Design Technology at Queen's Drive Infant School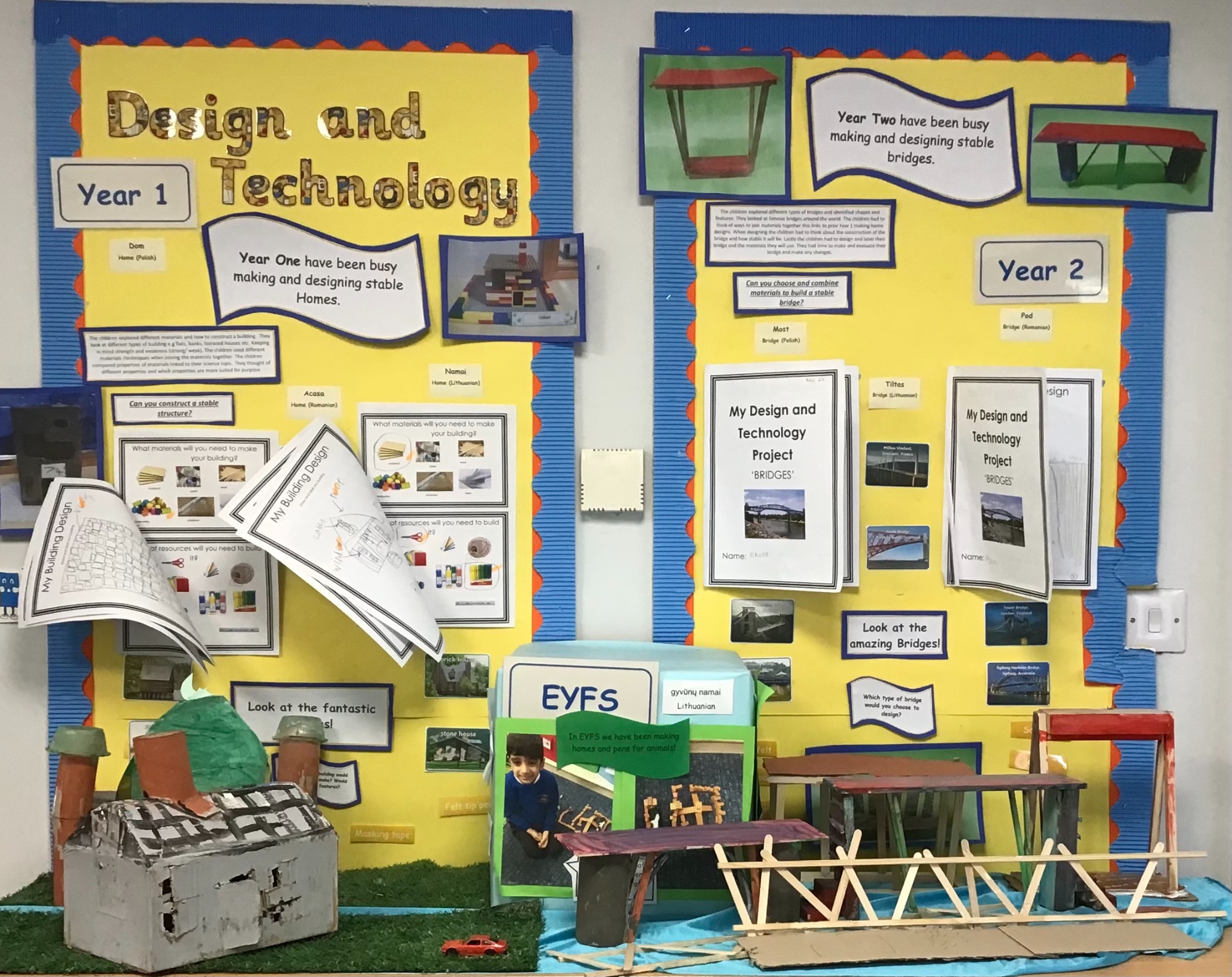 Vision - Encourage and develop creativity, problem solving, planning and evaluation skills
Our children CAN be inventors, chefs or carpenters! The topics that the children experience have been crafted to inspire a love of Design and Technology. The children have hands on, practical experience of designing, making their own products. They enjoy following recipes and learning cooking skills to make a variety of foods.
By end the end of KS1, children are expected to design and make a product for a purpose e.g. a bridge, home, vehicle or diorama (scene with moving parts) and to have secured skills for joining a range of materials, making a stable structure and creating a moving mechanism.
Core Books
'Traction man' - Mini Grey, 'The 3 Billy goats gruff', 'The 3 Javelinas' - Susan Lowell, Rosie Revere, engineer' - Andrea Beaty
Books to inspire a love of inventing:
EYFS-
We're Going On a Bear Hunt, The Most Magnificent Thing by Ashley Spires (Linked to junk modelling), Don't Spill The Milk by Stephen Davies (Linked to carriers), What Do You Do With An Idea by Kobi Yamada (Developing Ideas), Young Frank Architect by Frank Viva (Developing Ideas), If I Built A Car by Chris Vam Dusen
Year 1-
Mr Ferris and His Wheel by Kathryn Gibbs Davis, Papa's Mechanical Fish by Candace Fleming, Iggy Peck, Architect by Andrea Beatty (Linked to building, homes), The Fabulous Flying Machines of Alberto Santos Dumont by Victoria Griffith
Year 2-
Little Red Riding Hood, You're Snug With Me by Chitra Soundar, Over and Under the Pond by Kate Messner (link to habitats), Rosie Revere Engineer by Andrea Beatty (Inventing), The Boy Who Harnessed The Wind by William Kamkwamba (Wind Turbines)
Other related books:
Clink by Kelly Di Pucchio (Junk Modelling), From the Good Mountain: How Gutenberg Changed the World, Clever Lazy By Joan Bodger (Inventing), Electrical Wizard: How Nikola Tesla Lit Up the World by Elizabeth Rusch, Hidden Figures: The True Story of Four Black Women and the Space Race by Margot Lee Shetterly (NASA), How Benjamin Franklin Stole the Lightening by Rosalyn Schanzer, Hurricane by David Wiesner, I, Galileo by Bonnie Christensen, Imaginative Inventions by Charise Mercie Harper, Marveltown by Bruce McCall, On a Beam of Light: A Story of Albert Einstein by Jennifer Berne, Pop! The Invention of Bubble Gum by Meghan McCarthy, Pop Up House of Inventions by Robert Crowther