In this section...
E-safety at Queen's Drive
A topic that is continuously discussed in computing is e-safety or online safety. We would like all pupils to be aware of the benefits technology brings but also to be aware how harmful it can be.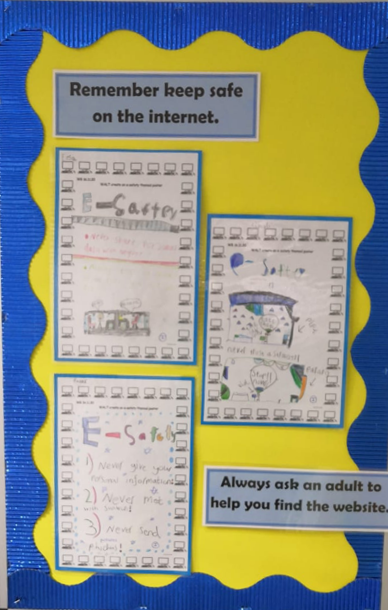 Here is an image of our e-safety display board which displays some good examples of work produced by Year 2 children during e-safety week.
Children are taught how to keep safe online when using technology both at school and at home. This is such an important topic especially during COVID where children are spending more time using the internet while staying at home when isolating or during a local/national lockdown.
Safeguarding is a top priority and we teach our children how to keep safe on the internet in our computing curriculum through Purple Mash. We embed e-safety child-friendly discussions in the form of safe internet rules from EYFS to Year 2 and discuss in detail the steps they can take to protect their personal details.
Year 2 also have e-safety week in the academic year where we have lots of discussions about social media restrictions and how to keep safe online. It is also an opportunity for them to ask and answer questions about online safety.

You will find below websites for parents and carers on how to keep children safe online.
Safer Internet Advice For Parents
Please see the attachments below about social media,balancing screen time and playing age related games.