In this section...
P.S.H.E at Queen's Drive Infant School
Vision - For all children to become mindful towards others, to look after themselves and be aware of the dangers around them and how to keep safe in a variety of situations
Our PSHE curriculum is taught by using the Cambridgeshire Primary Personal Development Programme (PPDP). These are taught through a variety of strands: Citizenship, Healthy and Safer Lifestyles, Myself and My Relationships and Economic Wellbeing. These are linked to the National Curriculum (2014).
The units are taught through a discrete PSHE lesson to ensure all children are able to gain the information needed to become and valued member of our society. Each unit is adapted by the class teacher depending on what each KS1 class needs to focus on.
By the end of KS1, children are expected to be able to work and solve problems together regardless of age, gender or race; understand the importance of personal hygiene; know how to keep healthy and what it means to lead a healthy lifestyle, know the rights, rules and responsibilities of themselves in various situations, understand who they can trust and what to do if they do not trust someone, the importance of money as well as how their body has changed and how and when to keep their body safe from others.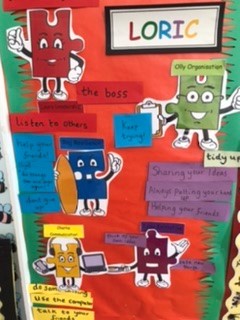 We are also using LORIC across the school where children are encouraged to:
Be a leader (L), Organise themselves (O), Build Resilience (R), Use their initiative (I), Communicate (C)
Websites
PSHE and Citizenship KS1 BBC Bitesize