In this section...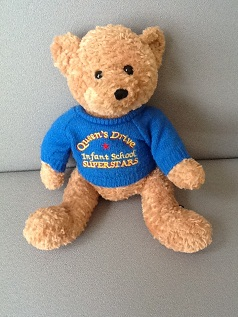 We celebrate our SUPERSTARS every Friday. We take time to reflect on our individual successes in our assembly and teachers nominate children to receive a certificate. Every week, one class of superstars is selected who look after 'superstar bear'.
Have a look at the SUPERSTARS display outside Mrs Skinner's office to see who is a superstar each week.
Who will be the Superstar class this week?
ATTENDANCE superstars are also celebrated each week with the best class being rewarded with 5 extra minutes playtime! Awards are also given out each half term. Check out the display to see what is going to be the prize this term.
If you have been a superstar outside of school, we would love to hear about it. Just bring in any certificates, prizes or awards for us to share in assembly.
PLAYGROUND SUPERSTARS – We have started awarding special 'star' badges to children nominated for their excellent playground behaviour.